BIography
Well, that's me.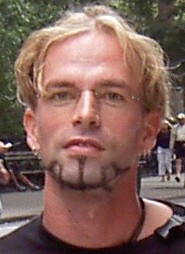 Andreas Lazar.

I was born on the 6th of February 1975 in Linz/Austria, as son of a carpenter and a charwoman. (For those of you who believe in Astrology: I was born at 1:05 p.m. So if you count, I'm the creative Aquarius – Gemini combination!)

The first 4 years of my life, me and my older sister grew up mainly at my fathers' parents' place. There it was my grandfather who first introduced me to art. He was drawing the "Flintstones"-characters, perfectly, in astonishingly few seconds.
In the following years of my childhood I noticed that my father had his skills in creative drawing too (even if he denied that fact).

So, during the rest of my childhood and my being as a teenager I developed my own creative skills which I've obviously inherited. First I was drawing Walt Disney characters, Bugs Bunny & Co. and stuff like that. They were surprisingly (?!!!) good! Later on I built furnitures for my Teddy, built scary Aliens out of playdough or made a copy of Knight Rider's instrument panel (with which I even won the first price of a Knight Rider-competition, arranged by an Austrian newspaper named KRONEN-ZEITUNG). In highschool I made my first Fantasy-Illustrations: I illustrated my teachers, drew first their faces (nearly perfect in passport photography size) and gave them "Mr. Universe"-, or "Hot chic" bodies. (The faces of the teachers which I did not like got ugly disfigurations or just bloody, dropping wounds with a knife sticking in the eye and so on. No need to tell that these teachers never saw what I made out of them!) I also drew funny caricatures of my classmates which found their places in our highschool-newspaper. Nevertheless as I kept on drawing, I didn't feel the real "kick" to use my skills for serious profession. And my parents (which where already divorced at that point) had just eyes for their own problems, so they just ignored my creative talent. The fact that I really got interested in girls too, didn't support my interests of a future as a professional drawer or even a Fantasy-Illustrator. Not yet!!! (You might have noticed already that I always speak about "drawing" and not "painting". That's because of two reasons: 1st) I always loved to go into the smallest details, and that was always much easier for me with thin pencils or pastels than with paintbrushes. And 2nd) I never had the patience to wait for the paint to dry until I could go on.)

After school I got an education as a bookkeeper, learnt that this was not my future and started something new beside being a bookkeeper: Being a barkeeper! (That was at least a job where I could be creative!) But after my nights became longer than my days I realized that being a barkeeper was not my future either. Anyway, at the age of 18 I finished both educations and went to the army. (In Austria, -like in many other countries-, you HAVE TO go to the army, just like "EAT IT!!!!")
At least for me the military was THE positive happening which changed my life for real (or was it because of the girls after all?). I worked in the officer's mess and when I had the late shift I never had anything to do; so I "read" some adult-magazines. The most girls in the magazines were beautiful of course, and after watching the pictures for the 571st time or so, I took a paper and a pen and I began to draw one girl after the other. That was for the first time after years that I was drawing again for real; and it was a brilliant training because I couldn't etch the lines after I was drawing with a pen. The best of it all was that I really enjoyed drawing this time, I really LOVED it. So after a while I changed the pen into a pencil and realized that it felt satisfying to draw a woman's body, to wipe softly over the lines exactly as if you'd touch the women's skin for real. That was the point when I realized that I wanted to perfectionize my drawing skills, so that I could be a professional artist. I finished the army and got quickly a job as a shiftworker. The salary was quite high, which allowed me to quit the job after one year for being at home and train my drawing-skills. While I trained my skills I got inspired by 2 brilliant artists, Luis Royo & Boris Vallejo. I used their pictures to learn the art of fantasy-illustrations by copying some of their works but changing a couple of details from their original paintings. During that time I sold many of my works and got even orders for new pictures. (Beside that I even used my creative skills and started to write a novel. In fact I'm still writing on it and if you're waiting for it to be released you still have to be patient, sorry.) But because I did not have a known name as an artist at that time, I was forced to search for a job again. This time I made a smart turn: I went to the Art-Academy, beside my full time job! After 2 and a half years (only half of the academic education) in the Academy, I couldn't learn more about drawing with a pencil (which was my only strong plan: To become perfect with the pencil). So I quit the Academy as well as my job and started my being as a freelance artist. I designed my own Starsign Collection, which sold dozens of pictures, they were ordered or simply reserved by my clients after some successful exhibitions. People even came to me with photographs of themselves, of their girlfriends or boyfriends, their wives or husbands; or their children. They even wanted me to draw a nude, or a fantasy-illustration or just a portrait of the pictures they brought. It was then when I got The Idea.

So I established my name as an artist and started to spread my name (and my works) through a couple of states in Europe. I met and drew with artists in Milan and Paris, Berlin as well where I got some profitable contacts. While I was still drawing for private clients and smaller companies, I designed personal fantasy-illustrations which represent the powerful images of two famous car companies, Audi and BMW.
Then I left Europe at the end of the year 2000.

I arrived in the Caribbean (the Dominican Republic to be exact) where I lived and worked for about 8 months. I gave drawing-lessons and drew and painted caribbean-style pictures, fantasy-illustrations, portraits and caricatures for tourists from all over the world as well as for native Dominicans.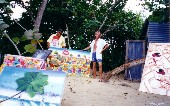 During the time in the Caribbean I met my Finnish wife who I married there on the beach. Because of the end of the tourist season, and because of my wife - who suffered from a lighter sickness - I returned to Europe; together with my wife. I found not only a new home in my wife's homecountry, but also teacher-jobs in some kindergarten and schools. To do something useful with the given time - so to speak.
In April 2002 I became a father of my dear doughter Enya Rebecca, and in June 2004 came another girl named Lea Naomi into my life.
Family life changed, when I decided to separate from my wife in September 2007, of personal reasons. I moved into the outskirts of Esbo / Finland, trying to get a conclusion about my life's past - starting with my childhood. I believe, that I drag some well hidden and forgotten things about my past inside me, which I always and unconciously tried to work up in my pictures. Therefore my illustrations will be quite different in the future, than they were now. I imagine, that there will not be any apocalyptical scenes anymore. And the main feeling about the coming illustrations will be the feeling of positive change.
Since April 2008 I am Conceptual Artist for STORMBORG Production Oy , a Finnish Visual Media Production Company.
At the end of August 2008 I left Finland and moved to Berlin/Germany, for private reasons as well as for catching up with business again. In October 2008, my girlfriend gave birth to my first son - Leon Dario.
May sound like I am some sort of monster because I left my daughters back in Finland. Infact, I am not! I am still a loving father who cares about his children. But I want them to have a better childhood than the one I had. And as cruel as it sounds, this is the only way. I still have contact to them - although I wish I´d have more, and I still see them. I hope that in the future things will turn out well for all of us.

My head is full with visions of great fantasy-illustrations which I need to put down on paper as well as I long for the realization of The Idea in Germany too. And after all, because of the Internet, it is even possible that exactly YOU can be a part of a worldwide realization if you wish!!!

If you already read about The Idea, you are just one click away to keep me busy!